Where to Begin?

Start your child care search by calling your local Child Care Resource and Referral Agency or call Child Care Aware at 1-800-424-2246. They can give you the facts about child care and a list of child care options in your area that may meet your needs. Be sure to ask what the licensing requirements are in your area and how you can get information about complaints and licensing violations. Your family may also qualify for some child care financial assistance programs that are available.

Visit and Ask Questions:
Adult to Child Ratio: Ask how many children there are for each adult. The fewer the children the better. Babies need an adult to child ratio of no more than 1:4 (one adult for four infants, birth to 24 months), while the ratio would be higher with four and five year olds.

Group Size: Find out how many children are in the group – the smaller the better.
Caregiver Qualifications: Ask about the caregivers' training and education that qualifies them to work with children. Check each candidate's references and work histories.

Ask the Caregiver Open-ended Questions: Tell me about your previous experiences working with children. What activities do you like to do with children? What is your discipline policy? How do you manage stressful situations? How do you handle naps, meals, toilet training and emergencies?

Ask Practical Questions: Are you certified in infant/child CPR and first aid? What if my child cries all day or refuses to eat or to nap? Are you willing to care for my child if he/she is sick? What hours are you available? Are the activities and materials age-appropriate for my child?

Spend some time watching your children and the caregiver interact before leaving them alone. TRUST YOUR INSTINCTS!

Complete a Background Check:
Ask the caregiver if they have a criminal history or have ever been accused of abuse and neglect, whether it was founded or not. Regardless of the answer, it is essential to complete the forms for a background check on your potential caregiver and submit them to the appropriate departments.

The Child Abuse/Neglect Central Registry Release of Information Form can be downloaded from the Department of Social Services website at: http://www.dss.virginia.gov/files/division/dfs/cps/forms/032-02-0151-06-eng.pdf The cost of completing this form is $7 and it must be notarized.

The Criminal History Record Request form can be downloaded from the Virginia State Police Department website at: http://www.vsp.state.va.us/downloads/SP167.pdf The cost of completing this form is $15 and it must be notarized. The approximate turn-around time to receive this information is 15 working days.

A Request for Fingerprints form can be downloaded from the Virginia State Police Department website at: http://www.vsp.state.va.us/FormsPublications.shtm The cost of completing this form is $10.

If the caregiver refuses to allow you to do a background check, this should be a definite red flag! NEVER LEAVE YOUR CHILD WITH ANYONE WITHOUT COMPLETING A BACKGROUND CHECK FIRST!
LINKS AND RESOURCES:

Prevent Child Abuse Hampton Roads
http://www.ucantbeatkids.org/
Virginia Department of Social Services
http://www.dss.state.va.us/family/children.html
The Planning Council (child care)
http://www.theplanningcouncil.org/children.htm

Child Care Aware
http://www.childcareaware.org/en/
Kids Priority One: Health and Safety Zone
http://www.kidspriorityone.org/health/child_abuse.html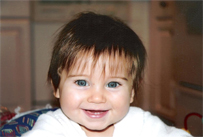 In Loving Memory of Hannah Noelle Weiss December 10, 2004 –September 14, 2005